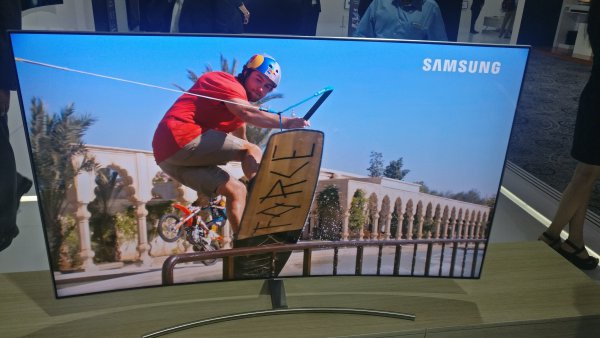 Yes, Just like the much competitive smartphone market the television market is burning hot with competition too. New innovations are overtaking the world of television. TV has now become a symbol of luxury. Samsung has taken it to the next level with its latest TV series.
On Tuesday Samsung launched its new series of Samsung QLED TVs in India. The Samsung QLED is a new name in television technology which refers to Quantum dot technology. To define it in a simpler way it means that the television will use Quantum dot filter to create TV's colors. It will make your television screen more colorful and brighter than ever before.
The new range of Samsung QLED TVs will come with premium specifications and a luxurious price. The new series of TV will be available in five models – Q7, Q7F, Q8, Q8C, and Q9. Each model will be available in the following screen size – 55 inches (138 cm), 65 inches (163 cm), 75 inches (189 cm) and 88 inches (223 cm). The new TV series is very expensive and the price is set between Rs 3,14,900 – Rs 24,99,900.
Samsung is offering to give a gold color variant of
Samsung Galaxy S8 Plus
for free if you pre-book any of the above-mentioned TV sets between May 2 and May 21.
The latest QLED TV sets come with a lot of new features. It will be the first television in the world to offer 100 percent color volume. Other television sets offer up to a maximum of 68 percent. It also offers ultra-HD which means that it will have four times the pixels of a regular HD television. This will enhance your TV watching experience to an unbelievable clarity.
It will also come with Samsung one remote with voice control features. Through this remote, you can control all the devices that are connected to your television set. This saves you from the pain of changing the remote everytime you switch to another device.
The new range of Samsung QLED TV will come with the HDR 2000 functionality to make sure that there are enough details in the viewing picture. The makers claim that there will be no distortion or loss of color.
It has an optional studio stand and a "No Gap Wall-mount". The new series will be slimmer and sleek and will have a premium metal body and sport a bezel-less display.
The tech giant also unveiled their new innovation – "The Frame". It fades to black color like a regular television set but the QLED TVs are not just another regular set. Its frame can transform into more than 100 art pieces in 10 different categories like wildlife, landscape, action etc. when not in use.
It's another impressive feature is a new invisible cable connection. It allows the users to connect all devices together by using just a single optical cable. It saves you from the often irritating mess of wires and keeps it neat and clean.
A new smart view app enables you to share the content from your smartphone with your television.
President and CEO, Samsung Southwest Asia, HC Hong said in a press conference that the Samsung QLED TV is starting a new era in the world of television. They are introducing new innovations which are well ahead of their time. The new TV series reflect their global ambition. Samsung without a doubt is the most trusted electronics brand in India since the last decade and in intends to keep it that way.